RACE TO THE IPU™ STANDINGS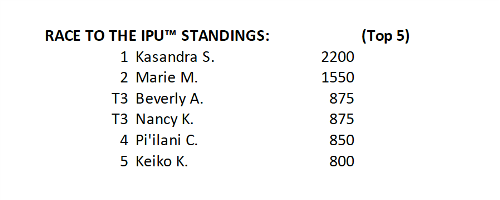 FULL STANDINGS.

RACE TO THE IPU™ RULES
Players must compete in at least eight (8) chapter league tournaments to qualify for the final prize. Every score from every chapter event must be entered into GHIN to be valid. 9-hole events do not count towards points total. Points may be awarded for outside events, but in no event shall exceed the "participation" level (i.e., 11th place or greater). In the event of a TIE at the individual event level, the points for the two (or multiple places) shall be added and divided by the number of individuals. For example, 1st and 2nd, 1750 total, and divided by two players for a total of 875 points each. In the event of a TIE for the final points, the number of events the individual participated in shall serve to break the tie. Rules are subject to change without notice. Placement is based on NET score, and points are awarded as follows: 1st: 1000, 2nd: 750, 3rd: 650, 4th: 550, 5th: 450, 6th: 350, 7th: 300, 8th: 250, 9th: 200, 10th: 150, 11th and greater: 100.