We had a fantastic day of fun and golf on December 14 at the Annual Holiday/Year End event.

First place winners with net 72 on game net ball "with a twist" were Satoko Umeda, Scott hummel, Pat Vanderklauuw and Lynn Carlson. Second place team was Marie Staebell, Jeannette Sullivan, Jan Smith and Wendy Erasmous.

Lottery tree raffle was won by Scott Hummel. The 50/50 was won by Carolyn Caplan. A drawing game was won by Scott Hummel and the "crazy sock award" went to Cindy Ackerman.

Birdie pins were awarded to those members making a birdie during league play or an event. Pins were awarded to Jennifer West, Satoko Umeda, Pat Atkinson, Jackie Cox, Sandra Green, Carey Allen, Jan Smith. Karen Schmid, Betsy Powers, Cheryl Porter and Pat Vanderklauuw.

Drawing winners were Karen Schmid ($50 Shell gas card), Sally Whitton & Jeri Dausey (Shula's foursome), Bonnie Kaye, Scott Hummel, Lynn Carlson and Wendy Erasmous ($25 gift certificates from Planet Golf) and Jennifer West (Snow Jewelry $100 gift certificate).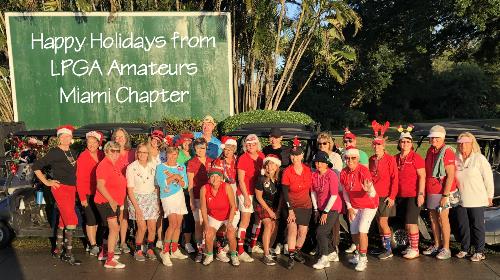 - Dec 17, 2019