SUMMER FINALE Wrap Up!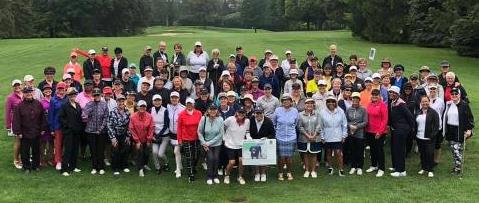 On a day that started gloomy and rainy, the sun eventually came out to shine on 98 players at the Summer Finale on September 8th at beautiful Naperville Country Club. Our members and guests were very generous to Orphans of the Storm Riverwoods (animal shelter), donating more than $4400 through a raffle, 50/50 and direct contributions, including a $500 contribution from our chapter.

Fifteen league foursomes and threesomes competed against each other and the winners were:

1st place: Just Golf League: Mary Beth Zolli, Lori Knaub, Chris Busch and Leslie Ambrose 2nd place: Metro West League: Jill Knecht, Katie Engel and Marilyn Hebda 3rd place: Serious Saturday Golf League: Julie Clausing, Monica Tynan, Cherise Barron, and Kathy Davies

Ten Fun Foursomes also competed against each other with the following winners:

1st place: Robyn Craine, Gussie Blue, Sheila Soresson and Yori Green 2nd place: Diane Rayfield, Vicki Stearns, Annette Rigali and Tori Sells 3rd place: Michelle Qi, Min Haung, Christina Tu and Lucy Liu

Prizes were also awarded to six contest hole winners:

Longest Putts: Stacey Jakes and Barbara Barrett Closest to the Pin: Emily Li and Kim Brady Longest Drive: Cherise Barron Straightest Drive: Michele Pasquale

A big thank you to all of the volunteers and Naperville Country Club for making the day run smoothly and to all players for their generosity to Orphans of the Storm.
- Sep 11, 2019