RIVER PLANTATION GOLF CLUB
Saturday, October 7


Stately moss-covered oak, magnolia, dogwood and azalea trees make a stunning backdrop for River Plantation Golf Club, where great golf and great service are a way of life!
The 18-hole layout features lush fairways that meander through century-old oak and pine trees. Strategic water hazards and bunkers add to the aesthetics and integrity of the overall golf experience. This course can be challenging for experienced players while forgiving for those new to the game.
Saturday, October 7
9:00 a.m. Shotgun Start
$65/member, $70/guest
Game: Bingo, flighted
River Plantation Golf Club
550 Country Club Dr.
Conroe, TX 77302
---
RUDYARDS HAPPY HOUR
Wednesday, October 4
Come join us for Happy Hour at Rudyards British Pub & Grill! For the last 41 years Rudyards has been a Montrose institution offering great food, a huge draft beer selection, cocktails on tap, and a creative new menu - including unique artisan pizzas and other delicious options!
Every member that registers ahead of time will get free pizza and snacks. Look for your registration link in your newsletter.
Wednesday, October 4
5 p.m. - 7 p.m.
Hosted by Shahrazed Fleming, Social Events Chair
2010 Waugh Dr.
Houston, TX 77006
Please contact Shahrazed Fleming with any dietary preferences.
---
IT'S YOUR TURN – VOLUNTEER!
We've had a great year, and we couldn't have done it without our committed volunteers who have worked hard to make our chapter experience the best it could be!
Now it's your turn to join one of the vital committees that keep this chapter going strong. We are looking for members to serve on our Golf Events, Communications and Membership committees. Not sure which committee is the best fit for you? Just contact the chapter president, Leslie Sosebee, at
LLSosebee@comcast.net
or 713-702-3426 to learn more about the different committees and discuss where your strengths can help our chapter the most!
Committee members serve for one year. Time commitments vary, but on average requires 1-2 hours per week. Ideally, we will have 3-4 members on each committee to share the responsibilities. "Many hands make for light work!"
To volunteer, or for more information, please contact Leslie at LLSosebee@comcast.net. Thanks!
---
SAVE THE DATE
OCTOBER
Sat, October 4, 2023, Chapter Happy Hour
Sat, October 7, 2023, River Plantation
Sat, October 21, 2023, Cypresswood Traditions
---
2023 Lone Star Cup Champions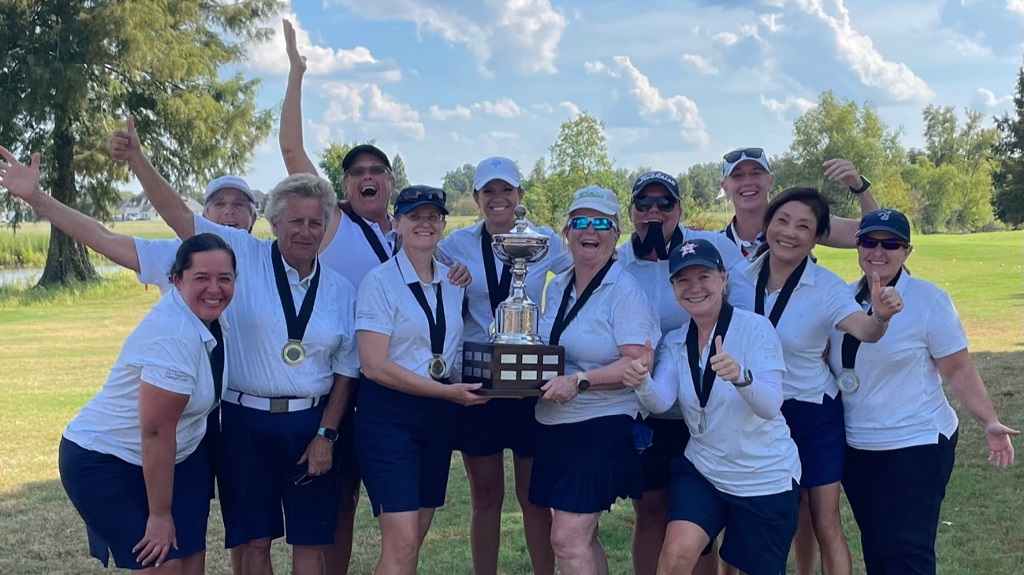 Houston are the 2023 Champions – we won the Lone Star Cup!
Since 2002, several LPGA Amateur chapters in Texas and the surrounding southern states have met up annually, for a weekend of match play to award the Lone Star Cup (LSC) to the winning team chapter of twelve players. This year, the Houston team travelled to Baton Rouge, Louisiana – where we played six other teams represented by members from the Austin, Baton Rouge, Dallas, Denton County, Fort Worth and San Antonio chapters. We like to think of the LSC as the Solheim Cup of the south….
The short story – is that Houston are the 2023 Champions – we won the Lone Star Cup! The LSC belongs to every member of the Houston chapter until the next time we all meet again to battle it out. Y'all helped make our team stronger and we felt your support throughout the LSC season: from every tryout match, to helping us fill out our practice matches, to cheering us on Facebook, and wishing us good luck before we left for the trip. Thank you – we hope you will come to the member appreciation event on September 30th to see the cup – your Lone Star Cup!
Check out the Chapter Newsletter for the long story.
---

See the Chapter News Article or Chapter League Page for additional information about each Girlfriend Golf event.
Tee times starting at 5 PM


---
Please see the Chapter News Article for this week's Rules and Handicap Q&A.
For More Information about the Houston Chapter or any of the events listed, please reach out to our Houston Board.
HoustonBoard@lpgaamateurshouston.com