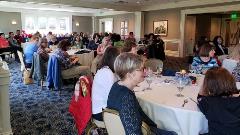 We officially kicked off the 2019 season at our 2019 Tee Off Lunch on Saturday, March 16, 2019.
Everyone had a great time returning home with a full stomach from a delicious lunch; information about upcoming chapter events and new programs; knowledge of the new golf rule changes and tips to improve our mental game. And some even left with prizes!
Many thanks go out to Bluestone Country Club for a great venue & lunch; to our speakers Chris Gardner for updating us about golf rule changes and Elizabeth Granahan for taking time to join us to help "fix our heads" and to the following for their generous donations of time and prizes:
Corporate: Athleta, Club Champion, Becky Dengler, FitGolf, GGBlue, Golftec, Kiehl's, Riverwinds Golf & Tennis Club, Sephora, and Top Golf.
Members: Sharon Alyanakian, Becca Cummings, Rita Gilson, Carol Gruber, Susan Hunsicker, Mary Insinger, Gail McNeill, Karen Melchiorre, Suzanne Orris, Dot Rooney, Mary Anne Rooney, Tia Toms, Nora Weigold and Jackie Wheatley.
We appreciate all the help you've provided - it couldn't be done without you!
And, we look forward to a great 2019 season!