WE NEED YOUR HELP!!
Do you enjoy being a member of LPGA Amateur Golf Association? Do you have ideas to make it even better? Then you should consider volunteering with the LPGA Amateurs - GTA Chapter. LPGA Amateurs is a volunteer organization run by members, for members.
We need our members to be involved in order for the organization to function. Participation on the Board, on a Committee or at Events is a very rewarding and satisfying experience. The opportunity allows you to develop your leadership skills and give back to the organization that we enjoy so much.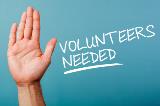 For more information, please contact the Membership Director.