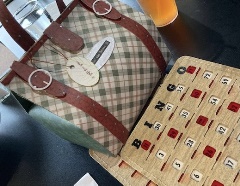 YEAR END THANKSGIVING BRUNCH


NOVEMBER 13, 11am @ DARCY'S

Join us for an afternoon celebrating our very fun filled 2021 golf season! We will recap the numerous successes of our members, announce the winners of the new member contest, and play some games for great prizes. Those of you who can't join the celebration, you aren't forgotten. All members will be eligible for a drawing for one round of golf at the wonderful Circling Raven golf course. Included with the round of golf is a cart, and use of the driving range on the day of play. This prize was kindly donated by our new member this season, Cynthia Black.
UPDATE ON OUR BRUNCH
We had a great turnout for our Brunch and what fun we had. We played a few games of Bingo for prizes. The prizes were donated by Sue Conard, who made beautiful bags/purses that were then filled with items such as sleeves of golf balls and other useful items. We drew names of our members for gift certificates to local golf courses as well as a gift certificate to Circling Raven golf course donated by our member Cynthia Black. We also recognized our new members and drew the name of a new member and a current members who referred a new member. There were plenty of laughs and good conversation. Prizes and winners are noted below.
Bingo winners of handmade bags
1. Connie Goodman
2. Susie Luby
3. Betsy Hammond
4. Maria Trunkenboltz

Drawings to golf courses
1. Heather Delanoy - Circling Raven
2. Cindy Chadwick - City Course
3. Robyn Sciuchetti - City Course
4. Jeanne Dawes - City Course
5. Ruth Walters - City Course

Membership Contest Winners
1. New Member - Karen Rowe - Receives 2022 Paid Membership
2. Existing Member Referral of New Members - Debbie Zimmerman - Referred Cynthia Black - Received $100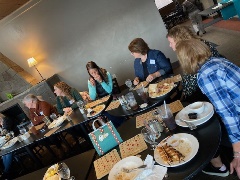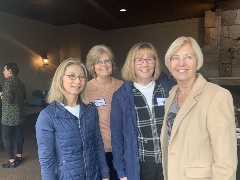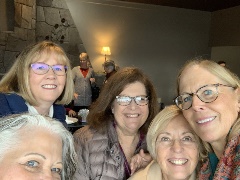 PLAYER RECOGNITION
contest.spokanelpgaamateurs@gmail.com
Congratulations to all of our Par Club winners and to those ladies who earned a Birdie Hat Clip. (aren't they the cutest!) Don't forget to join us again next season when we will be having more contests and more fun on the course. Keep swinging!

PAR CLUB
Congrats May Winner - Yvonne DeBill- $25 Gift Card
Congrats June Winner - Jessie Weurst - $25 Gift Card
Congrats July Winner - Soni Petty - $25 Gift Card
Congrats August Winner - Connie Goodman - $25 Gift Card
Congrats Sept. Winner - Vicki Warwick - $25 Cash
Congratulations Oct. Winner - Bev Reed - $25 Cash



BIRDIE HAT CLIP WINNERS for 2021
Susan Conard
Nancy Guin
Carol Lampard
Cindy Goedhart
Ronna Ricco
Vicki Warwick
Cynthia Black
Andrea Bates
Susie Luby
Yvonne DeBill
Bev Reed
Donna Huck
Kristin Watts
Robyn Sciuchetti
Wendy Payne
Terry Dunn
Roberta Brooke
Connie Goodman
Stephanie Galbraith
Helene Michael

We had over 20 ladies participate in our end of the season outing at Circling Raven golf course in Worley, ID. The weather was made to order and as usual, the course was in tip top shape. Many thanks to Susie Luby who organized the event.