The San Diego Players Cup 2021 Seventh Round Standings
Our Week 8 results following the Vineyard Round are in! The below table shows the current cumulative standings, and the Top 12 players' points from the last three events.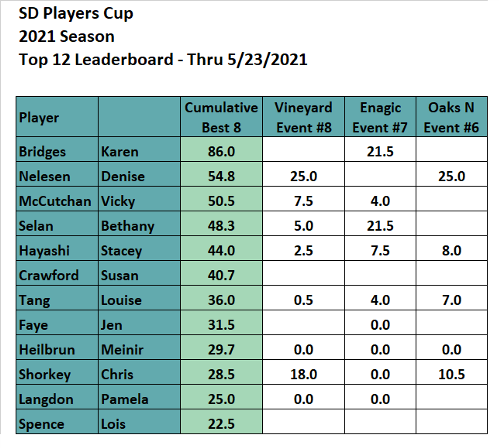 Still accepting registrations! It's your best 8 scores over the season that count and there are lots of Events to come that will qualify.

Join the season-long fun competition!

Entry Fee - $20 for the whole season

NEW THIS YEAR: 1st Place finisher in the Race to the 2021 Cup will receive a Revolving Trophy along with a 1st place cash payout. Cup Standings will be made available for viewing after EACH event on our Chapter Website.
See the entire Description/Rules and Sample Payout for
- May 31, 2021