Thank you to all the members who came out to our Season Closer! There was fun golf, a players gift that included (from the Chapter) an enamelled ball marker with our logo on it, some tasty appetizers and a lot of door prizes!
Our Team was ecstatic to see everyone having such a good time and our hard work had paid off. So at this time, we'd like to thank all of our sponsors and Team members.
But first some shout outs to our Board and Chairs who made this Chapter's season such a success.
Thank you:
Susan Strong (Board Member) for taking on the Secretarial role, her contributions to the Chapter (excellent minutes), and her idea of doing the Celebration of Achievements throughout the summer.
Dora Lomax for her years of service on arranging all the tee times with each of the courses we play at, then scheduling it all on Golf Genius and sending out the tee times (and re-arranging tee times when players cancelled). Dora has been a solid contribution to the running of the most important aspect of this Chapter - the golf. We are really going to miss Dora in 2024 as she plans to retire from Golf Genius and just plain golf!
Natalie Laforet for taking on the Membership Chair role after I became President. What can I say other than we are at 98 members. A phenomenal increase in our Membership in 2023! Also, personally to Natalie, as Past President, you've been valuable to me in guiding me through this first year as President.
Dale Skvereckas for handling the Honey Pot this season, Handicap verifications for those tournaments where handicaps were used to determine low net winners. Also for contacting new members to determine if they'd like to buy the handicap membership through us. It goes without saying that the Ontario Events Committee and GTA/HB Chapter Championship cannot thank you enough for all your time spent at the registration desk and such at almost all of the tournaments. Last but not least, thank you for the golf balls that were part of the gift to the Celebration of Achievement winners
Anne Marie Peirce for handling the newsletters this year. Her eloquence in the written word (and editing my stuff) is what makes the newsletter a great source of getting information out to our members.

Now to our Sponsors that also helped make our Season Closer a wonderful success.
Thank you:
Flamborough Hills - to Nigel Bowerman, the people in the pro shop and the restaurant staff, for some great golf on a beautiful course and a tasty menu in the dining room! And a special shout out to Randy who lined up our carts in a way that made me smile and feel excited about our event.
Member - Patricia Butt and Grand HVAC Leasing company.
Member - Alex Fricker
Member - Jan Villeneuve
Gil Garbus and Faraway Greens - Burlington
The City of Hamilton and Chedoke Golf Course
Erin at Energy Sports Medicine
Albatross Golf Centre - Ancaster
Member - Tania Clancy and Straight to Fit
Member - Katy Moore and Katy Moore Wines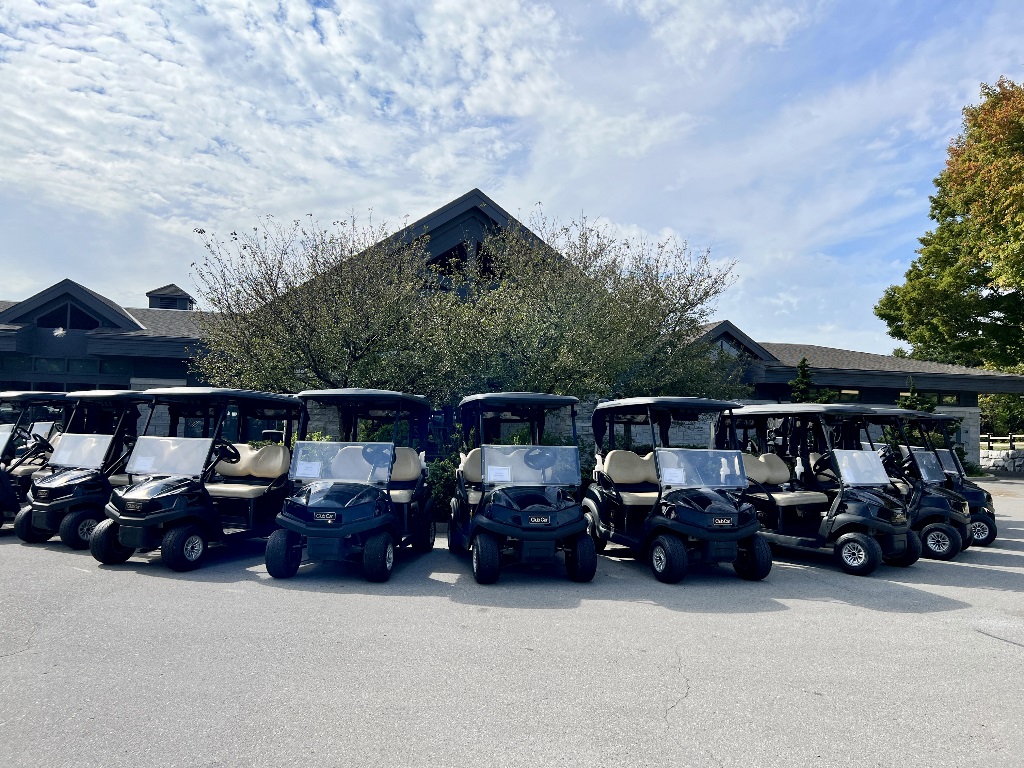 Please click here to view all the photos from the event!
Years ago when EGA changed to LPGA Amateurs, the members at that time were given these great bag tags by HQ. We somehow ended up with 8 leftover in our collection of swag. They are kind of precious because they are a one-of now as they don't sell them and that was the only run they did of them. But we had 8 left and what better way to award the top Celebration of Golf Achievement members based on their successes - big & small - on the course.
Sue Berlinguette - her consistent determination and work have paid off to hit longer drives on the fairway by the end of our season (28-Aug). Congratulations!
Karen Bird - receives an award for course management. She thinks ahead, uses strategies to try to have her shots go in the place most likely to have success (Aug). Also, for her consistent performance, even under pressure at the last hole making impressive chips that land and sit on green (18-Sept) Congratulations!
Jacinthe Boudreau: on Jun 26th, she was looking to achieve a game with at least one bogie, and behold that day she made two bogeys and a par. I hope you continue to surprise yourself. Congratulations!
Barb Busing: she was nominated twice for her unwavering good humour and on-going support of her team mates (Jun & Sept 18th) Congratulations!
Alex Fricker: she receives an award for the most improved player who is constantly challenging herself (e.g., she entered her first tournament with a handicap). She regularly used that driving range to strategically focus on single aspects of her game and then took it to the game. Congratulations!
Chessa Jope: A gal with persistence. We could learn a lot about making recoveries from her and keeping our focus right to the end, including making those very long puts (28-Aug). Congratulations!
Asia Shin: An award for her consistent set-up that allows for those consistent precise strokes. (26 Jun) Another person to watch. Congratulations!
Judy St James: an award for her club selection and approach shots that have been landing just a few feet from the pin (28-Aug); Drives have really improved (18-Sept) Congratulations!
See you all next season, or sooner given the good golf weather we're having!