The El Conquistador Summer Ringer is finally over!
We tried and tried and tried and finally succeeded in completing our summer ringer at El Conquistador. Thank you to everyone who participated and put up with the heat, the rain and the bugs! Congratulations to our winners:

1st Flight
T1. Barbara Ericks
T1. Jill Taylor
3. Catherine Steel

2nd Flight
1. Janet West
2. Cynthia Borchard
3. Linda Kelly

Scramble Mania!
5 Teams headed out to Crooked Tree golf course
September
12 to find out who was the best of the scramblers! Of course, they all had to tiptoe through hundreds of black beetles to get to the clubhouse, but who doesn't like a challenge? Thanks to Donna Shaw and Terry Rosales for helping out with registration, and congratulations to our winners!!


1st Low Net: Cynthia Borchard, Mary Ellen Case, Kareen Queen and Shiela Woolsey with a 56!

2nd Low Net: Cathy Bradley, JoAnne Dowdy, Linda Hartsig and Linda Stratton with a 57!
Welcome new members Barbara and Kelsey!

Watch out for the Return of the DESERT DOVE!
Long-term members will recall that years ago the Tucson and Phoenix Chapters of the LPGA Amateur Golf Association (then known as EWGA) met every year to battle it out for the odd but awesome Desert Dove trophy. This match play event, held in Casa Grande, was always a great time! Now that Phoenix has a chapter again, we're in discussions to bring back the tournament, and get back to meeting members of our sister chapters! This year, we may even get desert club Palm Springs to join in. The preliminary play date is November 21. Stay tuned for more details!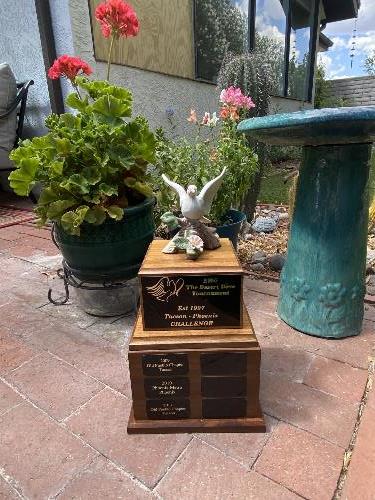 September Rule of the Month
It's time for etiquette on the greens! Click here for our latest tips.
Covid-19 Resources
Pima County requires face coverings in public, except "Persons who are engaged in outdoor work, recreation or exercise, so long at they are able to easily maintain a continuous physical distance of at least 6 feet. For more resources and info:
- Pima County
- Arizona Department of Health Services
- Center for Disease Control
- World Health Organization


- Mar 4, 2019