Thanks for Coming Out to 49ers Country Club for a Beautiful Day of Golf! Our lovely spring weather continues as we played a fun round of golf with members and guests at 49ers on May 11. Winners include two of our guests: Cathy Peterson (Cathy Kammerer's guest) for closest to the pin in two on #5; Ethel Allman (Kit Stephens' guest) for closest to the pin on #18. The Game of the Day was Low Net Tee-to-Green. In the first flight, winners were Kit Stephens in first place with 50, Donna Shaw in second place with 56, and Sandi Rabrich in third place with 57. Winners in the second flight were Cathy Peterson in first place with 55, Janet West in second place with 60, and Kathy Chavez in third place with 65. Thanks to everyone who came out. Hope to see you at Ventana Canyon Summer League!


Our 2019 membership drive continues to be a success with 12 new member joining this year. Welcome to Beth Leroux, Liz Long, Joanne Noonan, Darci Reutzel. Angela De La Fuente, Emily Jo Bronemann, Kit Stephens Monique Meyer, Sandra Murray, Carolyn Homa, Jenny Roberts, and Linda Semenyna. Look for them at our upcoming events.

Members and guests enjoying happy hour at North on May 1. We'll do more of these over the summer!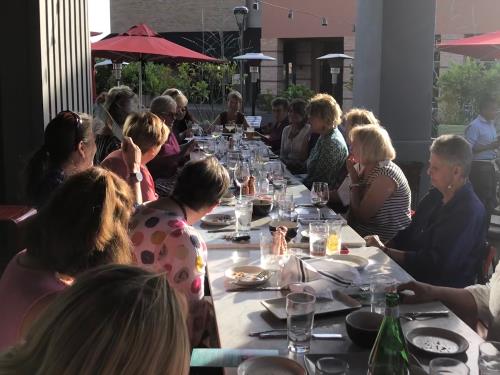 Local Championship Qualifier Results! Congratulations to our members who competed on Sunday, April 14 at Arizona National Golf Club! The results:

Senior low gross-Joanne Dowdy and Super Senior low gross-Beth Leroux

Second Flight:
1st low gross-Georgianna Plank and 1st low net-Joanne Dowdy
2nd low gross-Barb McCormick and 2nd low net-Mary Ellen Case

Third Flight:
1st low gross-Beth Leroux and 1st low net-Jacki McCue
2nd low gross-Donna Shaw and 2nd low net-Sandi Rabrich

Fourth Flight:
1st low gross-Sheila Woolsey and 1st low net-Kathy Chavez

Scramble Teams:
1st place-Captain Barb Ericks, Galen Grant, Brenda Loyd, Teri Ditsch
2nd place-Captain Linda Hartsig, Kathie Coil, Caren Bidegain, Darla Johnson

Low gross and low net will advance to the Southern California Desert Southwest Sectional Championship Qualifier on June 15 at Sycuan Resort in El Cajon, California. Both scramble teams will also advance to the SCQ. Good luck, Ladies!

A special thank you to LCQ Director, Mary Ellen Case and Tournament Director of the Day, Liddy West, assisted by Janet West and Terry Rosales!

...AND Congratulations to Donna Shaw on her first ACE on Hole #16!!!



AGA Medallion Qualifier Congratulations to our Medallion winners, Linda Hartsig (low gross) and Sandi Rabrich (low net)! Sandi has already qualified to play through Del Urich, so Joanne Dowdy, second place low net, will join Linda to represent our chapter at the AGA Medallion competition in January 2020. The Medallion Qualifier was held at San Ignacio Golf Club during January, February and March. Finishing in second place low gross was Kathie Coil.
Ringer Results The winter ringer was held concurrently with the Medallion Qualifier at San Ignacio Golf Club. Winners in Flight 1 were Deb Ballum - 1st place, Linda Hartsig - 2nd place and Caren Bidegain - 3rd place. Winners in Flight 2 were Judy Lantau - 1st place, Beth Leroux - 2nd place and Sandi Rabrich in 3rd place. Congrats!!
LPGA Founders Cup Tucson Chapter members Pam Black-Davis, Leigh Alexander, Liz Long, Liddy West and Kathy Chavez attended the LPGA Founders Cup March 23 in Phoenix to promote LPGA Amateurs Golf Association and to watch the pros play at Wildfire Golf Club. We were delighted to have golf legend Nancy Lopez stop by and say hello!!

GHIN Handicap Service – Handicap service through AGA just got easier. Our chapter is now set up to allow online registration for new members. Register here and click on Join. Our handicap chair will then confirm your registration. Just in time, because starting January 1, 2020, the LPGA Amateurs handicap service will be discontinued. For questions contact our Handicap Chair, Sandi Rabrich at srabrich@gmail.com