The San Diego Players Cup 2021 Standings
Our Week 20 results are in following the Welk Resort Fountains Course Event! The below table shows the current cumulative standings, and the Top 12 players' points from the last three events. We have 2 events left for Player's Cup: Twin Oaks on 11/14 and Steele Canyon Turkey Ball on 11/21. We're getting down to the wire now!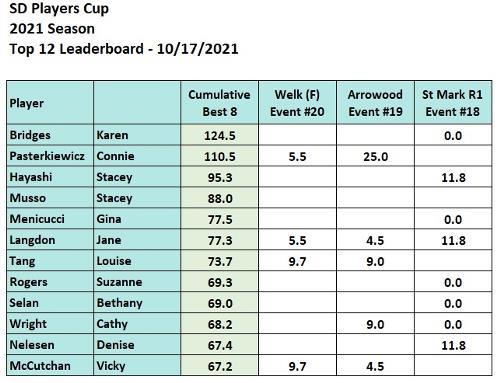 NEW THIS YEAR: 1st Place finisher in the Race to the 2021 Cup will receive a Revolving Trophy along with a 1st place cash payout. Cup Standings will be made available for viewing after EACH event on our Chapter Website.
See the entire Description/Rules and Sample Payout for
Registration is closed for this season, so be sure to follow along with the results and season standings.
- Oct 18, 2021