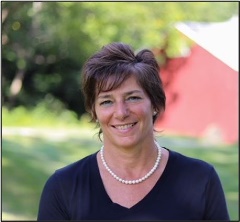 PRESIDENT'S CORNER
Fellow Chapter Members
I'm so excited to be taking on this important role as President of the NNJ chapter! As a member since only 2017, I've quickly realized what a special group of ladies we have. That was evident at our most recent holiday party! You ladies like to have fun! And what's not fun about the love for golf and girlfriends?
The friendships and relationships I've made through this organization in such a short time have astounded me. Joining initially to only play more golf with women has developed into so much more. I'm positive you each have a similar story or experience.
I have some great ideas for the upcoming season and together with the new Board, committee members, and your willingness to step up and volunteer as a member, will make implementing some of these a reality. The result will be a winning combination. The more involvement we have, the more we can offer.
I encourage all of you to become involved on some level. The connections and satisfaction received pays you back twofold. Being an ambassador for the chapter is an easy way to do this.
Anyone you socialize with outside of our chapter is a potential new member. Remember, golfing abilities don't matter. We have all levels among us and are hopeful to offer more activities for the new golfer. I appreciate any suggestions, comments, or feedback from you during my term. I am humbled and grateful for your support and confidence in me to lead this chapter to even greater things.
On behalf of myself and the 2021-2022 Board, I wish you and your loved ones a special holiday season and a healthy, prosperous, happy new year.

---
HANDICAP
Handicap Inactive Season for New Jersey begins on November 15.
See the USGA Handicap Active and Inactive Season Schedule here: https://www.usga.org/handicapping-articles/handicap-active-and-inactive-season-schedule-25489.html

Handicaps update everyday at midnight in the providing golfers with a more responsive and up to date Handicap Index. GOLFERS MUST REMEMBER TO POST AFTER THEY PLAY.

A handicap is one way to keep track of your progress, and there might be an event you want to play in that requires a handicap.


Through December 31, 2022, GolfNet is included with your LPGA Amateur membership. GolfNet is good for all LPGA Amateurs events, but you might need GHIN for state tournaments. If you are an active member of the Northern NJ Chapter of the LPGA Amateurs and want to obtain a handicap through GolfNet, contact Handicap Chair Sue Stager. She will activate your account and provide you with the info you need to begin posting your scores.
GHIN is a service offered by the USGA to regional golf associations, such as the New Jersey State Golf

Association (NJSGA). Members of the Northern New Jersey Chapter of the LPGA Amateurs can obtain or renew GHIN through our chapter. Having GHIN will register you with the NJSGA, making you eligible to participate in NJSGA tournaments and events.* The cost for this service is $31. To obtain, renew or transfer a GHIN account, REGISTER HERE.
For additional information regarding GHIN check out the Handicap page on our website.

---
You must be an ACTIVE MEMBER of the Northern New Jersey Chapter of the LPGA Amateurs to register for League Play and GHIN. Please click here and log into the Member Clubhouse to renew your membership.

Virtual Events & Webinars

Please view the Education section on this website for links to past programs and additional information!
---
LPGA Amateurs National Events
Click here for 2022 schedule!
---
Charitable Events


If you would like to promote a charitable event here, please send an email to president@lpgaamateursnnj.com. Once approved, it will be posted here.
---