The Dana Open, Sylvania, OH - September 1 - 4, 2022
Since we are only a couple of hours away from Sylvania, OH, some of you may be interested in attending or volunteering for this event. The Dana Open is presented by Marathon with our local Chapters. This event will be held in Sylvania, OH on September 1-4.
CLICK HERE for more information or go to the to lpga.com for more information about the event.
---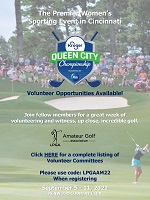 Queen City Championship, Cincinnati, OH - September 5 - 11, 2022
The LPGA is coming to Cincinnati this September and there are volunteer opportunities available. Join fellow members for a great week of volunteering and witness, up close, incredible golf. The Cincinnati Chapter is working on some opportunities to make it special for our members!